North Sea Jazz Festival Scenes
Sunday, July 23, 2000; posted by Paris

Lisa, Marcel and I attended the 25th annual North Sea Jazz Festival on Sunday July 16th in The Hague. The festival spanned three days and had over 1200 musical acts from all over the world playing all types of Jazz and Jazz-related music on 16 stages. It was located in a series of buildings with many acts playing at one time throughout the day. It is only a 10-minute drive from the apartment. We attended from opening to closing (4pm-1am). In some of the images you will see the large tele-screens broadcasting the show — made it easier to see the detail of things.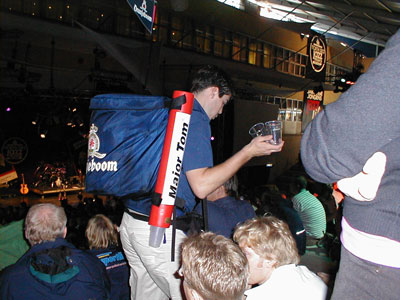 The beer sellers had a backpack of beer that held cups, dispensed beer and was topped by a tall illuminated flag so you could find them anywhere in the crowd. Probably would be great for personal use at a party as well.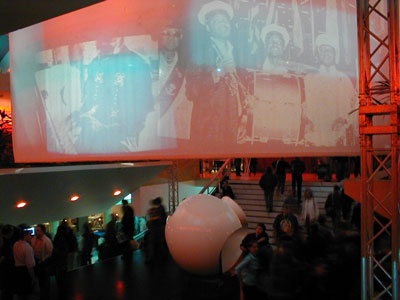 An image from inside the Congress Hall - the main site of the festival. Old-time jazz images are displayed above the stairs.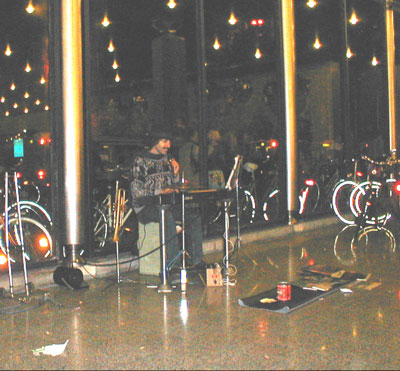 This guy was a one-piece jazz band — played trumpet, keyboard, and cymbals all at once.


Marcel eating the tasty Lekker-Bekje — a deep-fried fish. Extra large sizes only.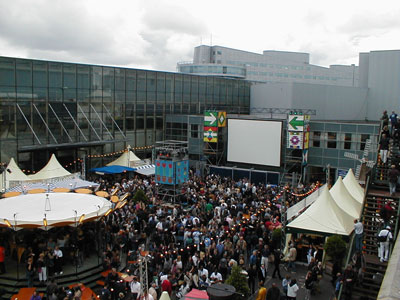 The main plaza connecting the various halls. All sorts of food and souvenirs can be bought here. A giant tele-screen broadcasts the events.


P and L.


Stanley Turrentine — the only act that we saw that played anything close to traditional Jazz. Sounded really good — listen to a sample (56.8k).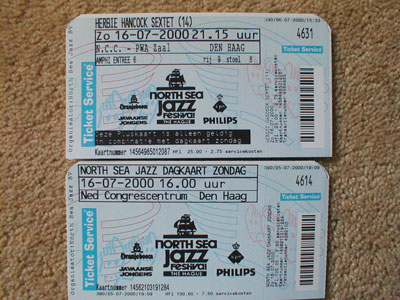 These are fotos of the North Sea Jazz tickets. $150 for 3 days per person, or $50 a day per person, plus $15 per person for special shows (like Herbie Hancock).