Celle, Germany, continued
Saturday, January 20, 2001; posted by Paris

I have posted so many Celle fotos for a friend who used to live there to see what we saw during our short visit.



This is one of the major entry ways to the old city center and pedestrian-only areas.


Diego, Lisa and me enjoying gluwein (sweet, hot wine). Lisa had cocoa.


Diego and Lisa posing as tourists.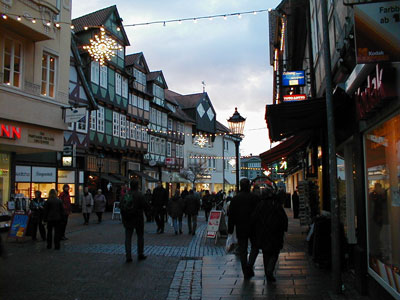 They rainy, cold day began to clear up toward the evening. A beautiful sunset filled the sky.


Festively decorated gluwein stand.


One of the many food and drink stands throughout the market. We also ate ribecoken met appelmus (potato pancakes with applesauce), berliners (jelly doughnuts), burnt almonds, Curry-wurst, and waffles. Had to try everything!