Hannover, Germany
Saturday, January 20, 2001; posted by Paris

Back in Hannover, the three of us spent some time walking through the city. Had a very nice dinner at a local pub (and had some very good Jever beer), visited with some of Diego's schoolmates, saw some churches and other buildings of interest, and went to the farmer's market to purchase some items for dinner. Below are some images of what we toured.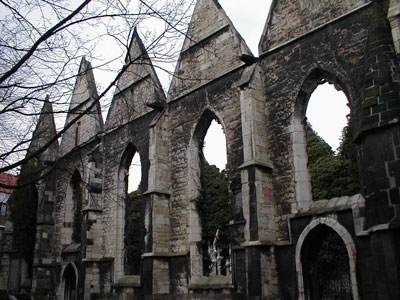 A view from the inside of a church destroyed during WWII. The windows are gone, and there is no roof. Some public events are still held within its walls. The church is set in the middle of an area that has been totally rebuilt since the massive devastation of the war.


Looking at the partially-rebuilt steeple of the ruined church.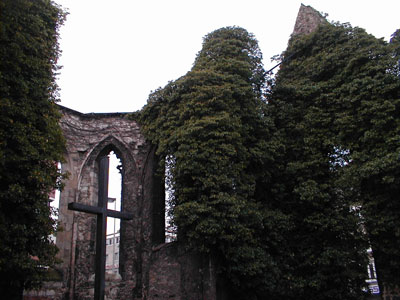 The back wall of the church. A cross and memorial to all of those who perished stands between the ivy covered walls.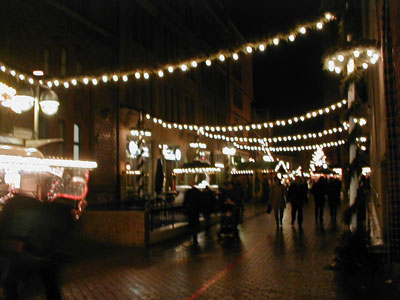 This is one of the main pedestrian ways into the Hannover Christmas Market. White light bulbs and pine branches provide simple, yet elegant decoration.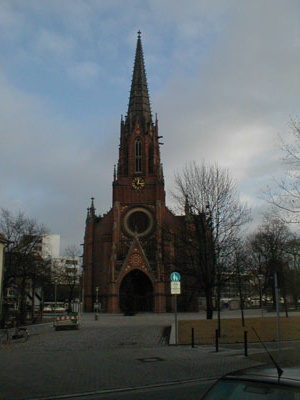 This is the cathedral right near Diego's apartment. Early on Sunday morning, its massive bells ring for about 10 minutes. Just listen. (96k)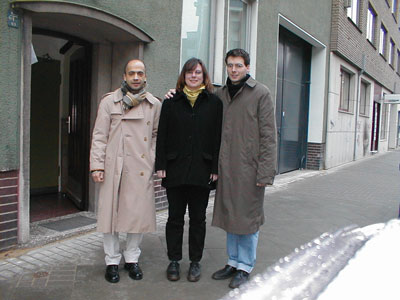 Diego, Lisa and me as we pack up for the drive back to Holland following a very fun weekend. We went back with bags of fragile glass ornaments, wooden Christmas carvings, chocolates and other treats that we VERY carefully wrapped and brought back to the US. They will be pleasant reminders of our visits to Germany.


A traditional German Christmas ornament - the pyramide. Powered by the heat of little candles, the fans above spin and since they are connected to a decorative scene at the base, that will spin, too. This one in the Hannover city center is a food and drink stand designed to look like a pyramide.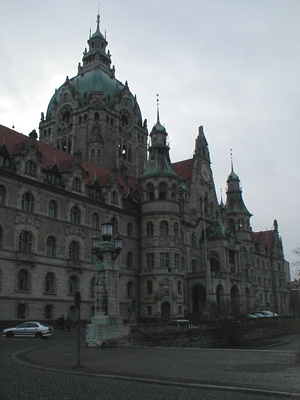 This is the massive and beautiful Rathaus (seat of government) for Hannover. Inside is a massive domed hall with statues and marble everywhere. Although most of the city was in ruins following the war, the Rathaus suffered only minor damage.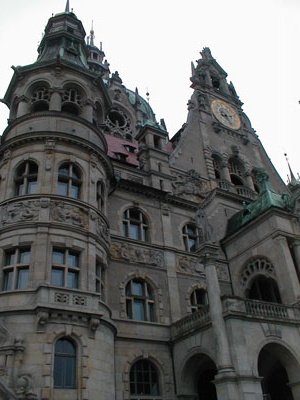 A close-up of the front and detail of the Rathaus.