Saturday in Haarlem
Sunday, April 22, 2001; posted by Paris

On Saturday Lisa and I went to visit Haarlem. The Bloemencorso (flower parade) was terminating in Haarlem around 9 at night, so we thought it an opportune time to tour the city in the afternoon. We took a train from The Hague and rode for about 30 minutes to the Haarlem station. We grabbed a map from the local tourist board (VVV) and wandered into the centrum.

The Grote Markt was filled with carnival rides and entertainment events. We had a sunny and cool afternoon to walk around the town. It took no more than 15 minutes to walk from one side of the main city center to the other.


This is the Grote Kerk found bordering the market square. It is under renovation. Built between 1390 and 1520. It contains the famous Mueller organ from 1738 that was played by Mozart in 1766 (and Handel, at another time). We heard the organ, but could not get in because we were too late.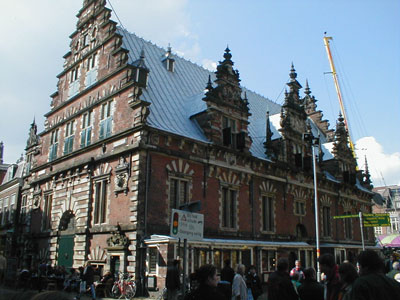 This former meat hall is now used an exhibition hall for modern art. It shows Dutch Renaissance building style and was built in 1603. This is also in the Grote Markt area.


The National Theatre we passed on our journey.


This church was built between 1645-1649 and the tower built in 1613. The structure is another example of Dutch Renaissance style.


A street off the Grote Markt. The Grote Kerk towers above us on the left, the Meat Hall on the right.


A street behind the Grote Kerk. Here you can see the Concert Hall built in 1885.


These little streets just off the main pedestrian area were jam packed with colorful plants and flowers.