Rome - Famous Sites
Saturday, November 04, 2000; posted by Lisa

Here is a sample of some of the famous sites we saw while walking around Rome. Again, ate very well every day and night.


The monument to the country to remember fallen Italian soldiers.


The Campidoglio (Capitol Hill). Loaded with brides and grooms getting their wedding fotos taken.


This is the piazza where Mussolini made his speeches — from the little balcony on this building.


These are the Spanish Steps, so called because they used to lead to the Spanish Embassy. Now they lead to the Church of the Trinita dei Monti. In the last century, artists and writers used to meet for coffee nearby.


This is a train station in Rome, recently renovated, originally commissioned by Mussolini. While walking there we observed cars and scooters loaded with screaming fans bearing large Ferrari flags celebrating something (an auto race?). Quite an event — hear (12.5k) it for yourself.


The Fontana di Trevi (Trevi Fountain) — there has been a fountain on this spot since Roman times, but the present fountain dates from 1732 and takes its name from the three roads (tre vie) that converged here. Throwing a coin in the fountain is supposed to guarantee your return to Rome.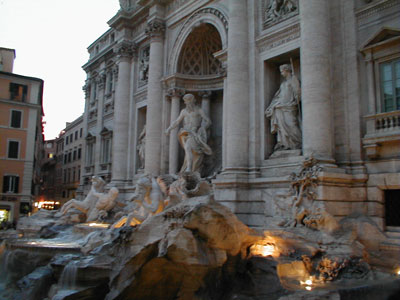 A close-up shot of the Trevi fountain and the walls of the State Copperplate Engraving Gallery.