Aunt and Uncle Arrive
Friday, May 04, 2001; posted by Paris

The last weekend of April, my Aunt Anita and Uncle Joe came to visit us in The Netherlands. They visited for four days and in general had good weather. We were able to show them a number of places by following a very full schedule. Their plane arrived one hour early, and the farmers were threatening to block traffic in protest of foot and mouth disease transportation limitations. In any case, we got them from the airport, and drove back to our place for a tasty breakfast before beginning the day.

A quick stop to Kijkduin and then we visited two art galleries (including the Mauritishaus) in The Hague and saw many Dutch Master works by the likes of Vermeer and Rembrandt. Walked through the Plein and Deneweg and through the Centrum. Finished the day with a lovely meal at Roma - there was a lot of Italiaanse Spreken there.


Anita and Joe enjoy some apple olliebollen (donuts) while sitting in front of the Ridderzall in The Hague. (This was really taken on Monday, but we did this on Friday, too.)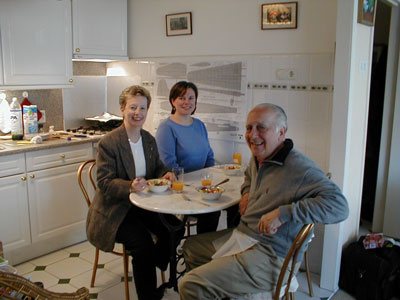 Anita, Lisa and Joe enjoy a cheese omelet and homemade lemon-poppy seed bread.


A quick visit to the beach at Kijkduin.