Troon, Scotland
Sunday, May 20, 2001; posted by Paris

Last weekend I attended a 3 day sales training session with my Sales colleagues. We stayed in an old 'castle' in Troon, Scotland (30 minute drive from Glasgow) - right on the coast and surrounded by golf courses. We listened to presentations and worked on business plans Saturday through Monday. I did my standard 2 hour technology overview, which put most of the group to sleep (didn't help that the heat was on high in the conference room).

We made time on Sunday to visit the golf course. About 15 of us - all with varying degrees of expertise - went on the links and played 18 holes. I have not really played since 1992 and it showed (I planted a ball in the middle of a busy motorway, and another ball hit a bicyclist). Once we got going, my affinity for the 5 iron came back. And, I was hitting good drives about 260 yards. Not bad.

The weather on our Sunday golf day was amazing - 80 degrees and not one cloud in the sky. Lots of sunburns. Most people prepared for a damp, cool weekend.

While visiting Scotland, I had some of the local food and beer. Scotch broth, shortbread biscuits, beans and sausage breakfast, bread pudding and Haggis (minced sheep lung, liver and heart mixed with suet, onions oatmeal and spices). Some things I liked, some will never be tasted again.

The pictures below are of some of my colleagues and some of the sites from my very limited Scottish tour.


My colleagues Alan, Kelly and Rene relax with a drink in the hotel lounge following a long day of work.


The view towards the water from the front porch of the hotel. A very nice golf course is in the foreground.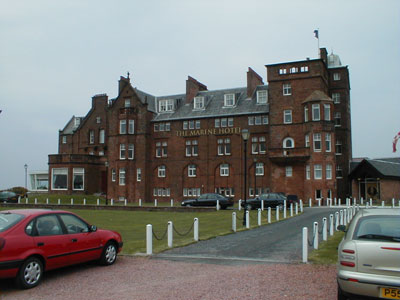 The old hotel.


A view of the front porch that looks toward the water.


Sori, David and Nick relaxing in the hotel lounge.


This is the course we played in Troon. Not many trees on the front nine, but we did encounter a lot of sand traps and rolling hills.


Many very nice old stone houses along the coast - I didn't get any pictures of those. But here are the more typical, modern duplexes that are found everywhere.