Amsterdam at night
Sunday, March 19, 2000; posted by Paris

These images are a sample of some of the places visited on Saturday.

The red light district has some of the best restaurants and many pubs. The streets are filled with visitors throughout the night.


A band we saw playing in a youth hostel/bar. Interesting to see the exact types one is used to seeing in Buffalo - the groupies dancing, the bored girlfriend enduring another performance, and more... they just speak Dutch instead.


One of the pubs on our journey.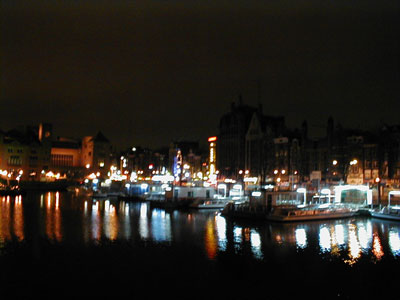 A view of Amsterdam from the Central Station.


Another view of Amsterdam from the Station.


Had a very good dinner at EntreSol - the owner was a friend of the people I was with. Spicy pumpkin soup and vension steaks with red wine. Finished with chocolate raisin crème roulette and coffee.